Alone, with family or friends, let yourself be tempted by private hairdressing services and choose from the best mobile hairdressers and barbers in your area.
Styling before a cocktail? A new haircut after work? We adapt to your schedule to style your hair at your convenience.
3. Relax
We're on our way!
Whether in the office, at the hotel or at home, CNB professionals travel anywhere to offer your favorite services.
Do you need
a team of hairdressers for your events?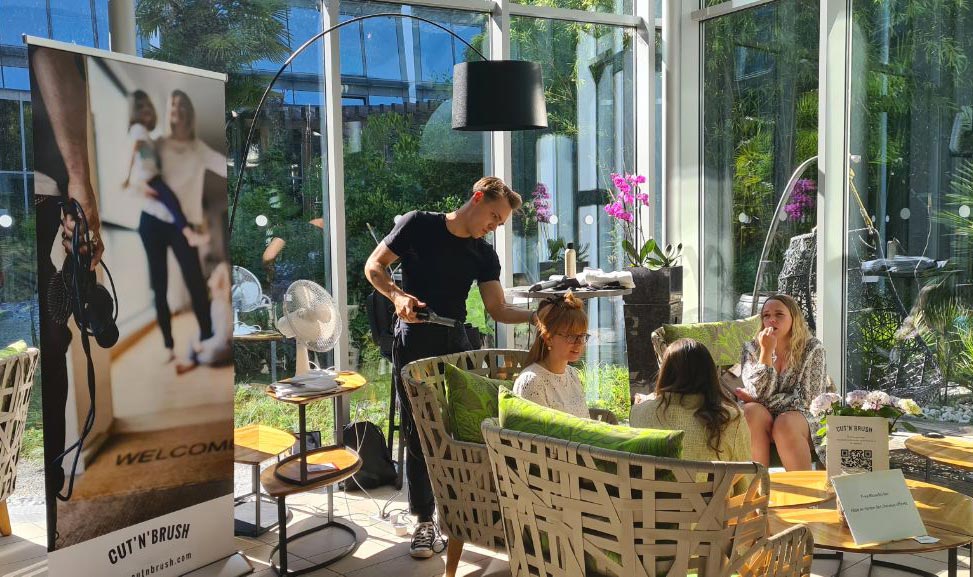 MEN
The combo haircut and beard, from natural to structured.
WOMEN/MEN
CNB hairdressers are accustomed to styling in the office, conference room or even an open space with the utmost discretion.
WOMEN
Overworked but still well-groomed, welcome contemporary women!
Make it a family affair
enjoy a stress-free atmosphere in the comfort of your home.
AMONG FRIENDS
Get together with friends for a styling session, before going out or while having cocktails.
We build partnerships with talented and passionate professionals. Lausanne, Nyon, Geneva and Neuchâtel, the CNB hairdressers operate throughout French-speaking Switzerland.
Available 7 days a week, we are committed to fulfilling your expectations. The service begins with a personalized consultation and ends with your satisfaction! Not only do we cut and brush, but we do the clean up afterwards.
App on the cutting edge of digital
Tech-savvy friends and Swiss in a hurry, discover your new hairdressing partner! Easy to use, the application guarantees secure payment. The service will only be debited at the time of the appointment.
Experience hairdressing at its finest!
The magic of CNB is that it combines state-of-the-art technology and the best in-home private hairdressers to meet your beauty needs.
BECOME A CNB PRO
with these BIG 5 benefits
Freedom:
your own hours, services and prices
Digital tool:
easy management of your finances and customers appointments
Opportunity:
development of your career & increase your earnings
Community:
join a network of elite hairdressers
Brand advantages:
access to preferential rates